25 février 2015
3
25
/

02
/

février
/

2015
22:23
Update 2014/3/10 : just an idea
In the French literature, Jean GIONO speaks about the "grande barrière", in English, big barrier. It is the barrier between man and animals.

I don't like the fact that animals fear us. If we respect them, if we stop to destroy their home and try to communicate with them, maybe we can erase that barrier.

So, I've got the idea that we could destroy this barrier in a video game :-) . For now, this is just an idea.

I Action
II A slow game
III Graphisms and landscape
---
I Action

Your aim is to set down the barrier between man and animals. Your ways of action are multiple : plant trees, tame an animal, cultivate your garden... For example, you may want to plant trees, to plant trees, you need to buy the field, to buy the field, you need to sell vegetables in the village market.

II A slow game

The big barrier is an enemy that requires several generations to be beaten. In this game, you control a family lineage : when your character dies, you control the daughter or the son. Each character has its own opinions, so you don't have always the same set of possibilities.

In this game, the world changes slowly. You only see countryside, people are not in a hurry, they take their time. Sometimes you have several people discussing in the summer evening, little insects glowing in the dark. It would be a slow and calm ambiance.

III Graphisms and landscape

Big barrier would offer a lot of attention to contemplation. Beautiful landscapes of high mountains, rocky rivers and wild forests. I think a realistic 3D is nice for that.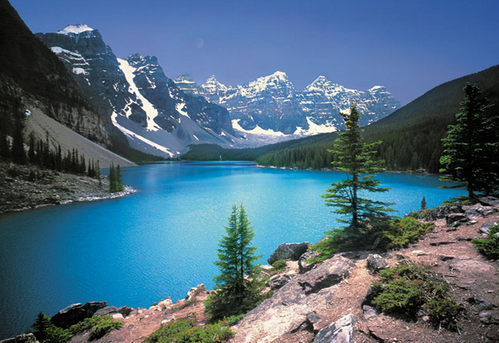 The kind of landscape you could see in Big barrier.